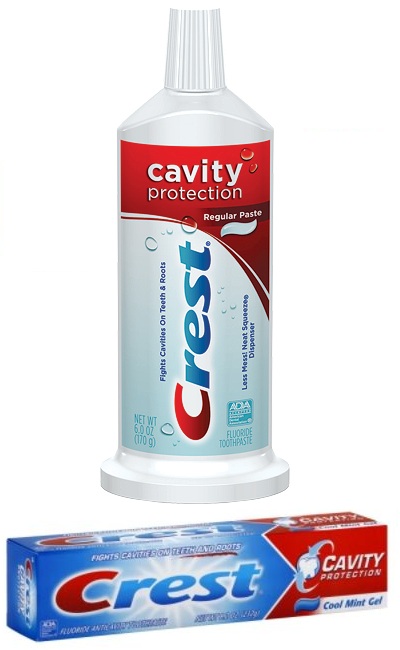 Cavities are formed due to the bacteria that adhere on the surface of the teeth, and these bacteria initially form a colony and an entire layer of Dental Plaque which later hardens due to the reactions occurring after carbohydrates are consumed, and finally leading to the Dental caries which we commonly call as the Dental caries or cavities. The cavity once occurred, has no other option than to get shaped and the caries part out, later the cavity filled by some restorative material. But when there are a few areas on the tooth which are weak and prone to the occurrence of caries, the Cavity Protection toothpaste and Gel by Crest can help in strengthening that areas and preventing the formation of caries.
The Crest Cavity Protection Toothpaste comes in a regular toothpaste type, and in also a Cool Mint flavor gel toothpaste. Both differ in just the taste, but the function is the same – Strengthening of the weak spots on the tooth surface. The actual flavor which these toothpastes contain, is the Wintergreen flavor. The flavors not just help in prevention of the cavities which were prone to occur due to bacterial attack, but after brushing the teeth using the Gel the breath remains fresh for at least a few hours due to the Wintergreen Cool Mint flavor.
The Gel usually has an action of spreading well with its foaming action, on all the surfaces of the teeth, thus it would not just strengthen the areas which are weak and prone to cavities, but also would keep the protection on those surfaces of the teeth which are safe for now but might be the attack zones for the bacteria later on. The toothpaste contains Fluoristat, the agent which is responsible for the prevention of the dental caries. The toothpaste is approved by the American Dental Association and is 100% sugar free. But for the toothpaste to show some effective results, you need to follow a proper tooth brushing technique.
The Crest Cavity Protection toothpaste comes in the 6.4 oz and 8.2 oz packs, and the best deal we found was on Amazon (Product Page) for $19 for 6 packs together. The Gel and toothpaste are two different types, made for people who want to choose based on their previous toothpaste usage.
Check out all the toothpastes from Crest –