In a dental office, helping patients for the prevention of dental problems and also educating them about proper dental care, is the general role of a dental hygienist. Working closely with community dental services, dentists in general practice and hospitals is common for a dental hygienist as well.
Responsibilities in both clinical and health promotion are included within the roles of dental hygienists. On the clinical side, dental hygienists are competent to scale tartar and polish teeth, apply antimicrobial and prophylactic materials, which are helpful for the treatment and prevention of gum diseases. Dental hygienists are also capable of carrying out screening, taking CT scans, dental x-rays and monitoring procedures.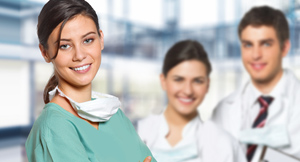 When promoting dental health, dental hygienists even provide education about oral hygiene. Even in a dental office, dental hygienists have a lot of main responsibilities.
Dental hygienists treat and help in the prevention of gum disease and are even capable of performing advance periodontal therapy. Dental hygienists can apply sealants and fluorides for the prevention of tooth decay, and can also scale and polish teeth. Dental hygienists might also demonstrate brushing and flossing techniques, while can even take impressions, radiographs and x-rays of teeth. Finally, dental hygienists can even provide temporary replacement crowns or fillings and offer advice on dental care and proper diet.
Dental hygienists might even have several other roles at a dental office such as the placement and removal of periodontal dressings and the preparation of clinical and laboratory diagnostic tests. Dental hygienists who have gone through further training are even capable of performing tooth whitening, removing sutures on sedated patients, extracting deciduous teeth by using painkillers and even undertaking pulp treatments along with the application of preformed crowns on to milk teeth.
The dental hygiene treatment procedure that is carried out by dental hygienists at a dental office usually involved five main steps.
The first step involved is assessment. Dental hygienists firstly completely review the oral and medical history of the patient when starting the treatment. This way the x-rays that have to be taken can be decided by the dental hygienist. Here a complete clinical examination of the mouth and periodontal assessment of the patient is carried out.
The next step in the treatment procedure carried out by a dental hygienist is the diagnosis. Usually dental hygienists will study the condition of the patient before making a dental hygiene diagnosis. This way the dental problem that needs to be treated can be identified by the doctor or dentist can then formulate a proper treatment plan or therapy accordingly.
Thirdly the dental hygienists then plan treatment once they have diagnosed the problem. Depend on the immediate needs of a patient; dental hygienists will accordingly organize a treatment plan.
Next implementation is planned by the dental hygienists. In this step the dental hygienists execute the treatment plan in a systematic way, while they properly maintain all the results and records. Finally the dental hygienists evaluate the treatment. Thus, even in a dental office dental hygienists have quite the complex roles.
Requirements of a Dental Hygienist
At the office of a dentist, people actually come across many different types of professionals. A dentist hygienist happens to be one of these professionals that patients frequently come into contact with. Healthcare professions involved in oral (dental) well-being of patients while playing roles including those of a clinician, education and presenter of oral illness, are known as dental hygienists.
To be licensed to practice in the field of dental hygiene there are several particular needs that need to be fulfilled by people, much like every other medical occupation. Thus, there are also specific requirements of becoming a dental hygienist that need to be fulfilled.
First and foremost, people need to attain the required schooling qualification. An associated degree in dental hygiene at the very least is required by someone who wants to become an oral hygienist. Generally dental schools, neighborhood schools or universities provide this two year program that allows people to obtain an associate degree.
A four year bachelor's diploma can also be pursued before beginning a dental hygienist program. In fact people can obtain much better professional prospects by getting a bachelor's diploma. A sophisticated degree in dental hygiene might be needed by anyone who might think about a profession in research or teaching. It is vital that an accredited dental hygienist school is chosen for studying even though many choices might be discovered.
Completion of high school and being more than eighteen years old are major requirements for the applicants who wish to enroll in dental hygienist programs at universities. Since biology, chemistry and mathematics in high school are considered as prerequisite programs, therefore having taken these courses is another requirement for prospective college students.
Upon the completion of a dental hygienist program from an accredited school, getting licensed by the state is another requirement for an individual to begin operating as a licensed dental hygienist. Getting licensed is a very essential requirement is every state. Furthermore, every clinical and publish exam that the state administers must be passed by a dental hygienist to get a license and start their career. As a prerequisite to the licensed, often taking an internship at a dental office or a dentist's clinic is also a requirement by some states. Taking an examination for fulfilling the legal aspects to apply for a dental hygiene position might also be necessary to start working as a dental hygienist.
Once all of the requirements of becoming a dental hygienist have been fulfilled, the gratifying career of becoming a skilled dental hygienist can finally be embarked on. In a majority of the cases, the working hours for a dental hygienist tend to be very flexible and the money happens to be extremely good. A college, a hospital, an organization and a private dental practice are some of the places where dental hygienists can ideally perform and begin their careers. Full-time or part-time jobs both are available for capable dental hygienists and they can choose according to their preferences and the salary they want to earn.