People need dentures for a number of different reasons – tooth loss, age, injury or gum problems are all high on the list. The stages of fitting dentures include a consultation then making a mould of your mouth. After this the dentist or Clinical Dental Technician will refine the product until it is perfect.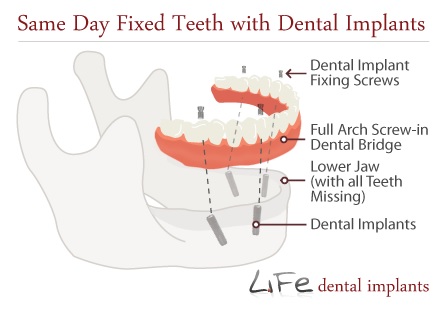 Services like 'one-day dentures' are available, but the most effective products are often the ones that have undergone a thorough fitting process, like the one described here. After you've seen a dentist, you'll still need to undergo a few more stages before you have your finished dentures. After the denture mould is taken, they'll record your bite and often refine the product through repeat appointments and tests.
Some clients will need partial dentures, some will need a full upper and lower denture set, whereas others might opt for implants and bridges. Implants are often the best and most natural option but they can be very expensive. The important thing to stress is that each case is different and procedures like tooth extraction need to be properly evaluated by a health care professional in order to provide the best solution.
Once your dentures are fitted, you need to maintain them well and clean them as rigorously as you would a natural set of teeth, although the means of doing this is very different. There are all sorts of denture adhesives available, which make denture wear much more practical than it was in the past. The cleansers and solutions available for overnight cleaning are also highly effective.Whitening pastes and even 5 minute, quick soak products are available to freshen up your new dentures.
Use a specific denture cleaning brush to polish your dentures and always handle your dentures with care. You will drop your dentures at some point and if you're standing on a hard polished bathroom floor this can be very damaging. Adjustments or repairs to dentures should always be done by a professional – never use home-made repair kits. People often try to bend or adjust metal clasps in partial dentures and this can be disastrous in terms of fit and comfort.
A good set of natural looking dentures can really restore your confidence, particularly for those who've endured unhealthy teeth for years. Many denture wearers will find the procedure upsetting to begin with, but then realize that their new set of dentures will give them a new lease of life.