Crest has a 3D White Vivid toothpaste which functions to remove the surface stains of the teeth, but the 3D White Advanced Vivid Renewal toothpaste does the job even better by working on the removal of the stains, and strengthening the enamel at the same time. The toothpaste is like a gel, and it functions in removing around 90% of the surface stains in around 14 days within the start of the usage of the toothpaste. It has a special ingredient and mechanism which helps in strengthening of the enamel and its inner layers, along with the surface action rubbing away the surface stains when you brush the teeth using this toothpaste.
The whitening agent that is present in the toothpaste, spreads on all the surfaces on the tooth, because of the foaming action of the paste and along with that, this Crest toothpaste even rebuilds the enamel below the surface, thus indirectly fighting caries (tooth decay). With the regular brushing habits, you can fight the tartar, cavities, remove the plaque adhering on the tooth surface, and refresh the mouth whenever you brush. You can get a pack of 2 toothpaste tubes for $10.75 at Amazon (Product Page).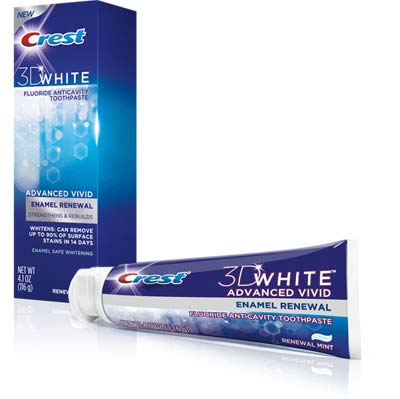 Whitening the teeth gives a better smile, and that too if naturally, would be very advantageous as you won't be doing anything specifically to whiten them. Even the areas which are hard to reach, are very well cleaned due to the well spreading action of this toothpaste. Here are a few customer reviews of the Crest 3D White Advanced Vivid Enamel Renewal Toothpaste –
Ricky – The entire 3D whitening system is making me love it. all the products of theirs, and especially the Enamel Renewal toothpaste due to its action and this is a product which actually gave me some real chances on my teeth.

Sanya – Didn't see a big difference in the color of my teeth, may be because my teeth were already quite bright but using the paste for the strengthening of the enamel and I felt it did help well in preventing the tooth decay.
Check out all the toothpastes from Crest –