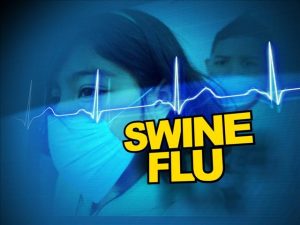 Swine Flu is the short form for the term Swine Influenza, the disease which is caused due to the H1N1 influenza virus, and the disease is also called as Hog Flu or Pig Flu. The disease is not transmitted through the Pigs or swines, but it is the people who are the agents for transmission of the disease. A person who has good immunity and immune system in the body is not prone to the Swine flu disease.
Table of Contents:
It is said that people who are more in contacts to pigs, or in a locality where the occurrence of pigs is common, are more prone to Swine flu. The symptoms are typically the same as that of the normal flu or cold, and one might not easily know about it as there are no specific other symptoms than the normal flu, but if the high temperature doesn't reduce, and there is sudden breathlessness then it's better to contact a doctor immediately.
Symptoms of Swine Flu / H1N1 Infection
The tendency of breathing very fast or gasping of breath is one of the primary symptoms.
Bluish skin color, with a greyish tinge
Reluctance of having fluids along with persistent severe vomiting
Continuous feverish nature, high temperature in the body
Continuous coughing with no reduction  after normal antibiotic therapy
Running nose and sore throat
Symptoms that require immediate medical attention
Apart from the above symptoms, there is difficulty in breathing and irregular breathing process.
Specific pain in the chest region, and in the region near the abdomen
Sensation of weakening of muscles in the elderly people, and sudden dizziness.
Rapid weakness as patient succumbs to the disease
How to Prevent Swine Flu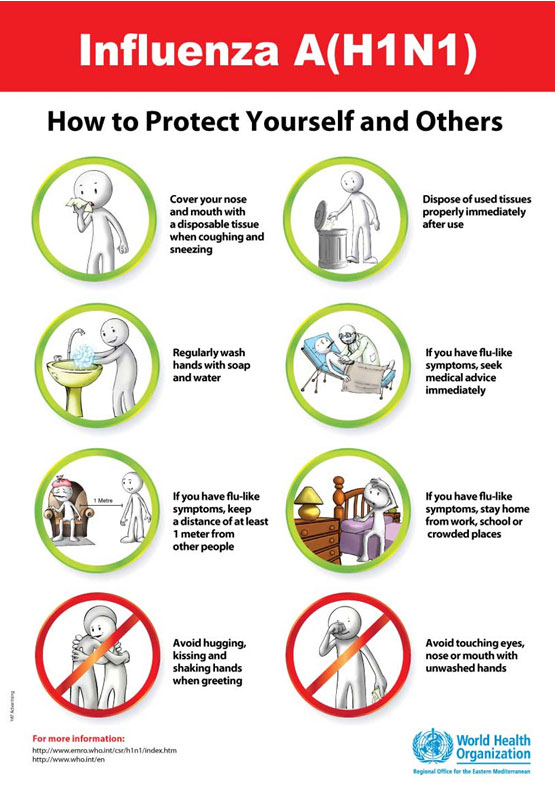 One has to take several measures to protect themselves and even others from the Influenza A or the H1N1 disease. One suffering from Swine Flu might take it as normal flu and would not take proper care to protect others from the disease. The different ways include:
Covering the nose and mouth with a disposable tissue whenever coughing or sneezing. The tissue paper should be changed from time to time if you are coughing frequently.
If you have fever, it is better to stay indoors so that you don't get more susceptible to other infections due to low immunity, and this would even prevent others from getting infected.
Wash your hands regularly with soap and water.
If there are any symptoms related to flu, get it checked immediately and seek proper medical advice so as to prevent the disease from getting severe.
If you have or someone has flu-like symptoms, it is better to keep a distance of at least a meter from each other.
Avoid touching the eyes, nose or mouth with unwashed hands, as the hands may carry the infective organisms.
Avoid using belongings such as laptops, mobile phones when you are not feeling well and have got the symptoms of flu.
Avoid going to crowded places when you have the symptoms of flu.
Vaccination against Swine Flu
These are the vaccines against Swine Flu, which were known to prevent the disease although the Govt. has ruled out that no universal vaccination is available as of now, and one can administer one of these vaccines in areas where Swine Flu is frequently occurring – Influvac, Agrippal, Vaxigrip, Vaxiflu-S and Fluarix.
Treatment of Swine Flu
Once infected with Swine Flu and if diagnosed by the doctor that the person is suffering from Swine Flu, it is necessary to go through a correct antiviral drug course, and these drugs include Zanamivir (Relenza) and Oseltamivir (Tamiflu).
These above drugs should not be taken directly by anyone, and they will need to get the condition checked first and then use these drugs only based on the prescription of the doctor, and if there is any severe case of Swine Flu infection, it is better to get isolated and hospitalized for the correct treatment.