Grinding teeth is a habit you can see with some people and they are seen to do it unconsciously and usually when they sleep. The medical term for this habit is Bruxism.
The exact cause for Bruxism or grinding teeth is not known and there are a number of suggestions on the causes. One factor thought to causes teeth grinding is stress. When a person is angry, in pain or frustrated they grind their teeth. So, negative emotion is definitely a source of this habit.
People who are aggressive in nature are seen to grind their teeth too. People who are too busy and have a hectic work schedule everyday grind their teeth because of their wok overload. Sleep disorder are also seen as a cure to teeth grinding.
Whatever be the cause of teeth grinding it has a definite bad impact on teeth. In teeth grinding, a person applied twice the force they would normally apply when chewing food. The result of teeth grinding is cracked enamel, teeth with hairline fractures, gum damage, worn out or traumatized teeth. This in turn results in sensitive teeth. One of the factors that dentist look into when treating people is if they have the habit of teeth grinding. Sometime their teeth can be so badly damaged due to tooth decay, that cosmetic dentistry is suggested as a way to bring teeth to normal look.
People with Bruxism even see a misalignment in their jaws and have other jaw related complaints. Some symptoms seen in people who have Bruxism are headaches, earaches, insomnia, depression and eating disorders.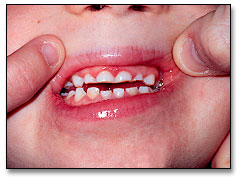 Those suffering from Bruxism are asked to practice stress management techniques to overcome the stress which causes this habit. Through relaxation techniques face muscles can be relaxed. Through stretching exercises, muscles will not become so tense and they need to be learnt and practice regularly.
Getting proper sleep is necessary to overcome the stress so this is another aspect to be looked into and to overcome insomnia, once again stress management is the option. As far as diet is concerned, people who have the habit of grinding their teeth are asked to avoid foods needing hard chewing and drink plenty of water everyday.