Glossitis is basically an infection of the tongue. Glossitis can cause the tongue to swell and also the color of the tongue might change. The tongue becomes smooth and the finger like projections on the surface of tongue might lose. Glossitis can be painless and it may cause the tongue and mouth discomfort. Some times glossitis may result in severe swelling which blocks the airway that needs immediate medical treatment. If the swelling of the tongue is mild, it can be cured on its own but if the swelling is severe then one needs quick medical attention.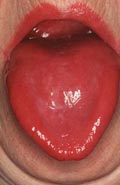 Sometimes the tongue can become inflamed or infected. Glossitis also occurs due to some other conditions too. Some underlying conditions that can cause Glossitis are anemia, iron deficiencies, lack of vitamins in body such as Vitamin-B, erythema multiform, aphthous ulcers etc.
Some medical conditions which can also cause Glossitis are, Infection, Trauma, Dentures, Alcohol, Smoking, Spices, Toothpastes, Dehydration, Hot Food, Mouth wash and several others.
There are many reasons which can be considered as signs and symptoms for Glossitis. They are difficulty with chewing, swallowing, or speaking, sore and tender tongue etc. Treating or preventing Glossitis does not usually require for the patient to treat in hospital unless and until it becomes severe. The best treatment is, Visit your Dentist regularly, good oral hygiene, thorough tooth brushing at least twice a day and flossing daily. Drink plenty of water, minimize irritants or injury in mouth whenever possible. And last but not least, avoid excessive avoid any type of food that can be harmful or hazardous to your mouth and tongue.