Dental braces are extremely common owing to the fact that it helps in restoring the jaw line of people and helps them in flashing the perfect smile as well. However, an important point that must be mentioned is that long use of dental braces can be the cause of various health complications. So, you should be aware of the different problems that may arise and the right ways of combating with these troubles as well.
If you do not change your braces for a long time, they become susceptible to a lot of infections. Whenever you eat food, if you are not careful enough, a lot of food particles tend to get stuck in your braces. If you are not following the right hygiene guidelines, your braces would continue to be the perfect ground for bacterial infections and thus long use of braces can lead to various dental troubles.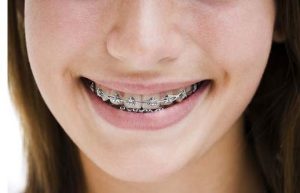 Apart from that, if you are not aware of using the dental braces effectively, you may be at a risk of nerve damage as well. When people sleep at night, their dental braces can slip on, if they are not fastened properly and thus the nerves can be stuck as well.
One of the biggest problems of continuous use of dental braces lies in the problem of lip cuts and cancer sores as well. Although dental braces can set the jaw line correct, yet the long term implications may be a bit too much to handle.
If you are not educated or trained enough in handling braces, you might face a lot of lip cuts that can turn out to be troublesome. You have to be very sure of the quality of braces as there is no point in buying braces of inferior quality even if they cost you less. The main reason is the fact that if these braces are used and they lead to lip cuts, the chances of blood poisoning would increase significantly. So, you have to be sure of the type of materials and quality of dental braces and at the same time, you need to train yourself with the right use of such braces.
Hence, the bottom line remains that dental braces should be used only for serving the right purpose. There has been a growing increase in the number of people who have been using dental braces and it is mandatory that people realize that braces should be worn only as long as they are required. One should not keep wearing them for the sake of putting up a fashion statement.
Never compromise with the quality of dental braces as they can cause serious damage to your health. So, use the right quality of braces and make sure to wear them as per your needs. Further, you should familiarize yourself with the right use of these braces and make sure to set good standard of hygiene levels as it will help in keeping a lot of health troubles at bay.
Clean your braces regularly and visit a dentist at regular intervals.
Sometimes, over-usage of braces can lead to more guidance of the jaws and teeth placement and the expected alignment of the teeth is not achieved and patients would be left with something unexpected. It is necessary to visit the dentist on the given appointments regularly when the braces treatment is going on, and if ignored it is you who would be responsible for the consequences.
Though we have shared how braces could sometimes go wrong and bad on some people, there are majority of people who have got the right treatment done and looked the best way with the Orthodontic treatments. For people who are very conscious with the look of the braces, they could go with the colored braces and look better than the normal steel-colored braces which most of the others wear. Braces placement is a specialized technique for assessing the severity of malocclusion, and you need to find the right Orthodontist for the same.