Taking care of one's teeth is very important for maintaining good oral health. One should know about different problems related to teeth so that they can help themselves if they find any symptoms of such problems with their teeth. In this article, we are going to discuss about cracked tooth. Cracked tooth refers to any tooth which is chipped, cracked or split. Those teeth which have internal or outer fracture are also included in cracked tooth. The crack in the tooth may be present throughout the tooth or just a small portion. No matter which kind of crack is there in tooth, it is important to seek the help of a dentist for getting it fixed.
It is important to know the causes of cracked tooth if one wants to prevent cracks in his/her tooth. Teeth may be cracked due to some force exerted by anything hard like a cricket bat, fist etc. Many a times, people's tooth gets a crack due to filling. In some cases when the tooth is over filled, it makes the teeth weaker and gives birth to a crack. Those people who have a habit of grinding their teeth may also have cracked tooth. Bruxism is one of the most common causes of cracked tooth.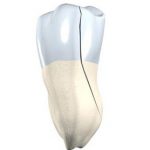 In order to spot a cracked tooth dentists look for different kinds of symptoms. If they spot any cavity, tooth abscess, cracked filling or problem in the alignment of teeth then they doubt cracked tooth. In such a case if the dentist finds out some other problem then the symptoms are related with that. However, if there is no other problem with teeth then these symptoms indicate only a cracked tooth.
The treatment of cracked tooth differs from case to case and person to person. In case, the tooth is partially cracked, dentists remove the weak part and fill it up. If a tooth is cracked from many parts, then a crown is fixed over the teeth as most of it gets removed. In severe cases, root canal treatment is also done by dentists. In such cases the pulp of the tooth is affected due to the cracked tooth.