Abscessed Tooth – Causes, Symptoms & Treatments
If you are wondering about the meaning of the term "Abscessed tooth" then you should read on. In this article, we will be informing you about causes, symptoms and treatments of an abscessed tooth. First of all, you need to know what is meant by an abscessed tooth. It refers to a kind of infection which is caused between the tooth and the gum or in the root of the tooth. It causes pain to the tooth which is affected by it.
Causes of Abscessed tooth
An abscessed tooth is caused by the development of bacteria, which is caused by the plaque present on the tooth and gums. Cavities are also a cause of tooth abscess. If the tooth is broken or chipped due to some accident then it may also lead to tooth abscess. Cavities are mainly caused by decay of tooth. Sometimes, tooth abscess may also be caused due to dry mouth as it contributes to cavities in tooth.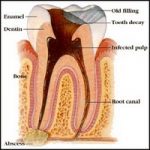 Symptoms of Abscessed tooth
The symptoms of abscessed tooth may include fever, pain in tooth while eating food, bad breath, sensitivity of a particular tooth to cold or heat, feeling bitter kind of taste in mouth, feeling unhealthy or ill etc. If you see redness on gums, swelling in neck glands or swelling in lower or upper area of jaw then it may be due to tooth abscess.
Treatment of Abscessed tooth
In order to put an end to the infection, the abscess is drained from the tooth. Root canal treatment is done for this purpose. Once the infection ends up, diseased root tissue may also be removed in some cases where required. In many cases, dentists also extract the tooth for draining the abscess.
Incision is also done in some cases in the gum which has swelling. It is for draining the abscess. For preventing the infection, antibiotics are prescribed by the dentists. One should rinse his mouth with warm water having some salt. It reduces the pain and discomfort which is felt by the patients. Drugs like ibuprofen are also prescribed for relieving the pain.