Famdent is one of the largest trade shows for Dentists in India, attracting thousands of dentists from all around and the next one being in Mumbai is going to happen in June 2013. There are going to more more than 250 exhibitors coming to the trade show and they would display their products for sale for the Dentists who use them at their Day-to-day practice.
Following are the details about the Famdent 2013 Show in Mumbai:
Pre-Conference Sessions: Thurs. 6th June 2013
Conference & Exhibition: Fri. 7th – Sun. 9th June 2013
Famdent 2013 Mumbai Venue
Bombay Exhibition Centre
Halls 2 & 5
Western Express Highway, Goregaon (E)
Mumbai
Fees for Famdent Mumbai 2013 Conference
| | | | | | |
| --- | --- | --- | --- | --- | --- |
| | Upto 31st Dec. | 1st Jan. – 28th Feb. | 1st Mar. – 30th April | 1st May – 31st May | SPOT |
| Dentist | Rs. 900 | Rs. 1000 | Rs. 1200 | Rs. 1400 | Rs. 1800 |
| Student / Interns / PGs | Rs. 850 | Rs. 900 | Rs. 1000 | Rs. 1200 | Rs. 1400 |
Scientific Sessions at Famdent 2013 Mumbai
The event Famdent 2013 at Mumbai in the month of June is going to be full of information sharing, and here are the different scientific sessions that would be going on during the conference.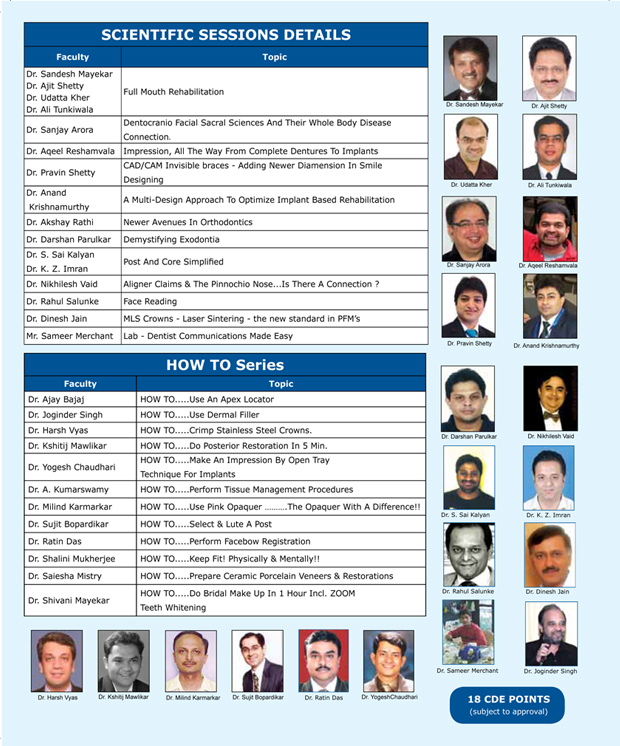 The Famdent shows go on for 3-4 days and the first day of the even is the pre-conference sessions where there are several sessions having lectures from the various experts, and from the second day the trade show begins with the stalls from various known brands who come up with attractive offers for the dentists who already have their practice going on or are going to setup a new practice.
I have been to a couple Famdent shows, both of them in Mumbai and Mumbai is one of the best spots for the Famdent show because it is not just an attraction spot for the Dentists but I have seen the highest number of exhibitors too when Famdent happens in Mumbai.