There are some books available online, so that you can download them as PDF files, and read from your laptop whenever you need. There is nothing given about the legality though, but as I found it free on the web, am sharing the book so that others too can take an advantage of it.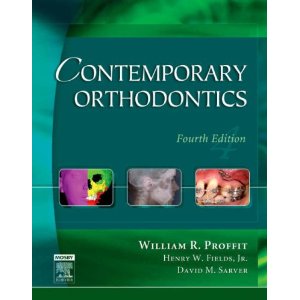 This is Contemporary Orthodontics book by Proffit. Its useful for 3rd and 4th year B.D.S graduates. Here are the chapters in it –
SECTION I. THE ORTHODONTIC PROBLEM
1. Malocclusion and Dentofacial Deformity in Contemporary Society
SECTION II. THE DEVELOPMENT OF ORTHODONTIC PROBLEMS
2. Concepts of Growth and Development
3. Early Stages of Development
4. Later Stages of Development
5. The Etiology of Orthodontic Problems
SECTION III. DIAGNOSIS AND TREATMENT PLANNING
6. Orthodontic Diagnosis: Development of Problem List
7. Orthodontic Treatment Planning: From Problem List to Specific Plan
8. Orthodontic Treatment Planning: Limitations, Controversies, and Special Problems
SECTION IV. BIOMECHANICS, MECHANICS AND CONTEMPORARY ORTHODONTIC APPLIANCES
9. The Biologic Basis of Orthodontic Therapy
10. Mechanical Principles in Orthodontic Force Control
11. Contemporary Orthodontic Appliances
SECTION V. TREATMENT IN PREADOLESCENT CHILDREN
12. Treatment of Nonskeletal Problems in Children
13. Treatment of Skeletal Problems in Children
SECTION VI. COMPREHENSIVE ORTHODONTIC TREATMENT IN THE EARLY PERMANENT DENTITION
14. The First Stage of Comprehensive Treatment: Alignment and Leveling
15. The Second Stage of Comprehensive Treatment: Correction of Molar Relationship and Space Closure
16. The Third Stage of Comprehensive Treatment: Finishing
17. Retention
SECTION VII. TREATMENT IN ADULTS
18. Special Considerations in Treatment for Adults
19. Combined Surgical and Orthodontic Treatment
Download the book from here. [Link Removed]
It is always recommended that you buy this book, but not always every student can afford it, so they can use it as reference.