Using a toothpaste with the brush is always a necessity as one says, but a company Shiken has come with a special type of toothbrush, which would eliminate the need of usage of toothpaste on it, and the brush itself is enough for the brushing of teeth and keeping them clean of the food debris, the bacteria and any other adherence on the tooth surface.
This certainly would not come to good use for children and those who use toothpaste for the fresh feel and the minty touch of it, while brushing. This brush comes with a product that produces electrons which cause chemical reaction on the tooth surface which helps in cleaning the surface and kill the harmful bacteria which cause the tooth decay. The Soladey J3DX toothbrush is powered with the solar panels in it which release the electrons, and nothing else is required as the bristles work as the normal brush bristles in cleansing the superficial surface of the teeth.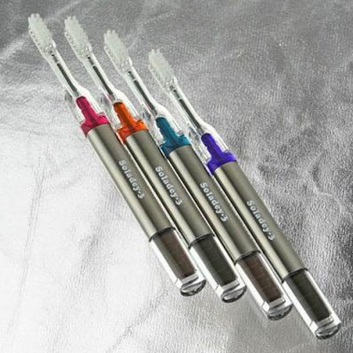 I won't recommend it, here is why –
It's not yet recommended by ADA and approved too.
The toothpaste is one of the reasons children and many elderly people too brush, and without it the entire purpose for them to brush is lost.
FLUORIDES – Where are the fluorides supplied from? Most of the toothpastes contain a small concentration of fluoride which help in mineralization of the teeth, and also help prevent tooth decay. That's absent here.