Meth mouth is a condition which is generally seen in those people who take drugs. As drug abusers do not take proper care of their teeth and do not consult a dentist, they develop various dental problems. Meth mouth is used as a slang for those people who suffer from severe type of tooth decay due to consumption of meth. It makes the teeth very ugly and people who suffer from it feel embarrassed in public.
If we talk about the main cause of meth mouth then we should understand that addiction to meth is not the sole cause for meth mouth. Different activities related with the habit of act of consuming meth contribute largely to the birth of this oral problem. Most of the people who are addicted to meth usually ignore the importance of maintaining oral hygiene. Meth lowers down the level of saliva present in the mouth. Saliva protects our teeth from decay. Meth addicts also sleep for a long time which in turn eliminates the amount of saliva in mouth. Such people also clench their teeth often due to stress. All this causes tooth decay.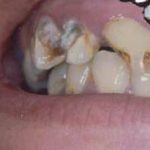 This condition may be diagnosed by spotting various symptoms. Excessive tooth decay which can be seen easily by taking a look at the teeth is a common symptom of meth mouth. Abscessed tooth is another symptom of this condition. Broken teeth may easily be noticed between the gum line and teeth of those people who suffer from this condition. Excessive pain in teeth and bad breath are two other symptoms of this problem.
People who want to get a treatment for this oral condition should understand that only they can help themselves to get freedom from it. If someone is not ready to stop consuming drugs then he would not be able to get rid of this problem. You need to leave drugs and start a healthy life for getting free from this oral condition. If a person wants to treat this problem he should consult a dentist, leave any kind of drug intake and take proper care of his oral hygiene.