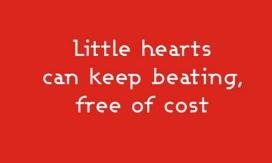 Heart diseases are pretty severe with some big complications later in life, so they need to be treated as soon as they can before some other problem arises. But the cost of treatment is also pretty high most of the times. Not everyone can afford this treatment cost, which can touch to many thousands to few lakhs. While browsing on Facebook I found a page where children below the age of 10 years would be getting free treatment for any kind of Cardiac or Neurologic problem. It was in a hospital in Bangalore, India.
Here is the info about it (Facebook Group) –
HEART SURGERY FOR CHILDREN-FREE OF COST
THIS IS DONE AT SRI SATYA SAI INSTITUTE OF HIGHER MEDICAL SCIENCES, E.P.I.P AREA, WHITEFIELD, BANGLORE, INDIA.
THERE MAY BE MANY CHILDREN WHO HAVE HEART PROBLEMS N THEIR PARENTS CANNOT AFFORD TO GET THEIR SURGERIES. PLEASE INVITE AS MANY PEOPLE TO THIS GROUP AS THIS MIGHT HELP SOMEBODY.

FOR FURTHER QUERIES WRITE TO:
SRI SATHYA SAI INSTITUTE OF MEDICAL SCIENCE,
EPIP AREA, WHITEFIELD,
BANGLORE 560066,
KARNATAKA INDIA

OR CALL:
+91 080 28411500
0R FAX:
+91 080 28411502
ENROLLMENT RELATED
+91 080 28411500 EXTN 415

EMAIL : adminblr@sssihms.org.in
The Sri Satya Sai Institute of Higher Medical Sciences, is a hospital first based at Puttaparthi, the birth place of Satya Sai and a larger hospital is present in Whitefield, Bangalore, India. I was conscious that there were such rumors going on around by some other groups on Facebook that these things could be fake so I called to that phone number and enquired about it.
They answered the things well, and you initially have to send in the reports you have, through mail or Fax and then you would get a letter for appointment within a few days. There you can discuss about the problem and treatment and as the person whom I spoke to, said that there would be no charge taken for any kind of treatment that related to Cardiology and Neurology.
This just like any medical or dental college for post graduates, might be in search of cases for post graduation studies or research but in the end it would be the senior staff working on each case so you can help the poor and ask people to visit this hospital if they were not able to afford the normal fees. It may not be your family member or your closed ones, but you can visit any schools of Orphans and ask the management about the children who are in need of such treatment. It would be great as a cause.
Here is the Sri Satya Sai Institute of Higher Medical Sciences in Bangalore –

The person said that it is free for ages between 5 to 40, but the main help would be given to children who are under the age of 10 and who have a lot of life to live yet.