A large number of people who are conscious about the health of their teeth use different things for taking their care. Taking proper care of teeth is very important to avoid various kinds of oral diseases. You might have some knowledge about dental floss or you may be someone who uses it daily. Dental floss is offered by different brands in the market. It is used by people for cleaning their teeth and getting small scraps of food which stuck between the teeth; out. However, there are some other uses of dental floss which you do not know. In this article, we will be informing you about some other uses of dental floss.
Dental floss may be used for cleaning the furniture and other things. If you are wondering how then you should know that dental floss can easily enter smaller gaps which may be present in tables and other furniture. Your finger or any other cloth cannot enter such smaller gaps. However, dental floss will be able to penetrate easily in such gaps. This way, you would be able to clean your furniture perfectly. Apart from this, one may use dental floss to separate cookies from the pan while baking them. Many people lose a relevant part of their cookies while trying to separate them from the pan. Cookies generally get stuck over the pan. You can use dental floss to gently separate cookies from the pan.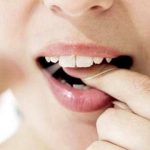 If you wish to floss your teeth then you should also know the proper technique of flossing the teeth. Always use 18 inches of floss. Most of the floss should be tied around middle fingers of both hands. Leave around 1 or 2 inches of floss to work with. Always use a gentle hand to floss the teeth because if you do it with force then your gum tissue may get hurt. In some cases the gum tissue may be bruised so badly that it starts bleeding. For cleaning different gaps, different parts of dental floss should be used. One should remember to floss below the gum line. However, do not forget to do it gently.