Bleeding gums should never be taken for granted. Individual who experience any of the signs of bleeding gums should immediately consult this matter with their dentist because it may already be a signal for more serious and complicated dental problem like gingivitis and periodontal diseases.
Signs of bleeding gums
The following are the possible signs of bleeding gums. If you experience any one of these over a long period of time then better set-up an appointment with your dentist immediately.
Sore gums
Shifting teeth
Swollen gums
Receding gums
Blood on gums after brushing
Deep pocket formation between your gums and teeth
Common Causes of Bleeding Gums
Vigorous Brushing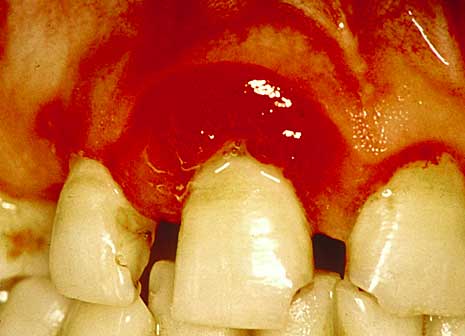 Developing the habit of brushing your teeth regularly is one of the advices of dentists but this does not mean overzealously brushing your gums and teeth. This does not only result to bleeding gums but enamel erosion as well.
Improper Flossing
If vigorous brushing is not good for your oral health then improper flossing will not do you any good as well. You should be careful in flossing the side of your teeth's natural curves and be certain not to force the floss into it because it may leave cuts on the surfaces of your gums.
Smoking
There are several reasons why you should quit smoking and one of this is bleeding gums and oral problems. Studies show that smokers are more likely to develop tartar on their teeth compared to non-smokers. Moreover, cigarette and tobacco contains hazardous chemicals and substances which reduces the effectiveness of the mouth's immune system.
Vitamin K Deficiency
Vitaimin K is very important in blood clotting. Deficiency of this vitamin in the body can cause a person to experience bleeding gums.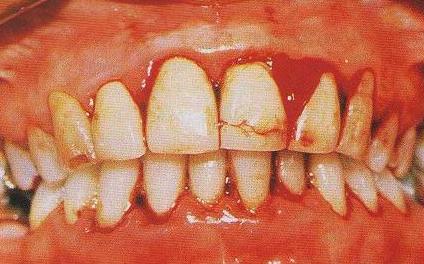 Medications
Oral contraceptives, nasal sprays, anti-depressants and anti-coagulants are researched to cause bleeding gums in patients. So if you experience bleeding gums after taking in medications then it would be better to report this matter to your physician so he or she can change your prescription.
Autoimmune Disorders
This condition is rarely experienced by man but those who are infected with this disorder like Rheumatoid Arthritis, Hashimoto's Thyroiditis and Systemic Lupus Erythematosus are researched to be prone to bleeding gums.
Leukemia
Those who are diagnosed with this illness have bleeding gums as one of its prevalent characteristics.
Improper Oral Hygiene
This is the main culprit behind bleeding gums. Bacteria in the mouth will spread easily if a person does not practice good oral hygiene. When this happens, then plaque and tartar formation will rampantly spread on the surface of your teeth and gums causing gum inflammation which will eventually lead to bleeding and swelling.
Hormonal Changes
Hormonal imbalance or shift during puberty, pregnancy, menopause or menstruation may also trigger bleeding gums. The sudden increase in the level of hormones of the body causes an increased blood flow towards your gums which makes them appear red, tended and swollen.
Read more about Gingivitis.