Update: Bomb Blasts in Dilsukhnagar, killing at least 22 people. – 22nd Feb 2013
Serial bomb blasts occurred in one of the most remote places, Dilsukhnagar in Hyderabad on 22nd February 2013 at around 7 p.m. when the suspected terrorist bombing happened near the Venkatadri Theater and Konark Theater in Dilsukhnagar where the area is very active during evening time. Reports say that around 22 people have been confirmed dead, and more than 50 are injured.
Hyderabad blast: Help Numbers – Dhanalaxmi Ambulance Services at Dilshuknagar – +91 9391351543, 9963857749, 9440379926
Hyderabad blasts: Injured being taken to Osmania general govt hospital. Call for Information on Police control room 040-27854771 Afzalganj Station.
Hyderabad Blasts Help Numbers. Please share with anyone in need. But do not clog the mobile phone network. Let those in desperate need use the network now.
Ambulance Service at Dilshuknagar: Dhanalaxmi -+91 9391351543, 9963857749, 9440379926.
Dilshuknagar Hospitals: Manju Sudha 40-67270197; Ikon 67115148; Paramitha 66045619; Space 49640782; Shalivahana 8686299908; Dilshuknagar Hospitals: Sigma 40-67120218; Good Life 49640328; Vasan eye 43400200; HariPrasad 24046733; Sai Kamala 44649999; Anurag 40-24044746; Saptagiri 66905566;FMS (teeth) 24655595;Omni 60036999; Shashi -nearest 24046772; Sai Ram 040-24064532; Vijaya 24069500; Savitha 66632381; Doctors 24053888; Mahalakshmi 24045138; Paramitha (children) 9959562951; GBR 65702345; JRD 24047440; Goldage 23449801; Hegde 64627310.
Blood banks near Dilsuknagar : SLMS 040-64579998; Kamineni 39879999; Hima Bindu 9246373536; Balaji 24572195; ADRM 27038744.
Dilsukh Nagar Police Station: 040-27853903 (Contact person Yadgiri), 9490617174. Near Sai Baba Temple; Email: vyreddyvootukur i@appolice.gov.in
———————-
Earlier: Aug 26th, 2007
Yesterday night was something terrible in our city center, where 2 bomb blasts  took place  in high traffic areas, one in a place called Gokul Chat, where many people hangout to have some hot snacks. The other blast took place in Lumbini park, a tourist spot and there a laser show was going on.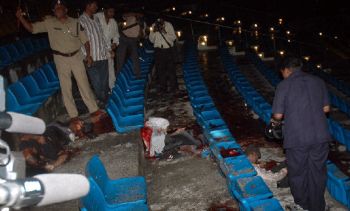 There were more than 30 people feared dead and more than 60 people were injured. These blasts occured near 8:10pm in the night. The injured were shifted to hospitals. The condition of many is said to be critical. Medical and para-medical staff at the Osmania General Hospital were struggling to cope with the situation.
40 engineering students from Nasik were watching the laser show together in Lumbini park and the blast took place near them.
The police arrested 4 people related to these blasts, but nothing is clear. And now, it has become hard for us to go to the city center places, and the most visited places where in open areas these kind of blastings are taking place. If this bomb was more severe, the Secretariat in front of Lumbini park would also have rocked.
People should be safe, and be alert in public places, or else it is just unsafe everywhere.